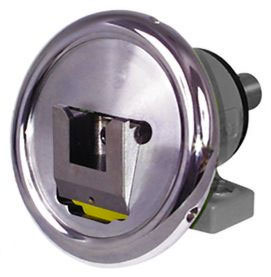 Parts and Accessories

Request Quote
Features:
Maximum Eccentricity 0.015"
Chrome Plated Steel Handwheel
Rubber Finger Guard
Mill Cut Square Opening
Hardened to Rockwell 56C
Tolerance: Specified Dimension -0" + 0.006"
The Boschert Classic Series Safety Chuck has been the standard of the industry since Boschert invented the Safety Chuck in 1948. This is a rugged Safety Chuck with lots of capacity built in for future upgrades. The concentricity of this unit is comparable with the Boschert Value Master. These units feature square openings case hardened to Rockwell 56 C. This Safety Chuck series is best suited to slow running unwinds and winders. The Boschert Safety Chuck design employs a tilting hand wheel to lock the end of the customer's square journal in the square opening of the Safety Chuck. This is a superior design because it allows the load bearing surface of the customer's journal to be closer to the first set of bearings in the Safety Chuck housing. Other Safety Chuck designs require room behind the load bearing area of their Safety Chuck. They need the space to allow a locking collar or cam to move back in order to exchange journals. Such design places the load bearing area of their Safety Chuck farther away from the first set of bearings. This outboard design causes greater stress to the Safety Chuck drive shaft and any eccentricity to the roll shaft is magnified in wear to that design Safety Chuck.
Size

Maximum
Weight/Pounds
Maximum
Torque
Ft/Lbs.
Maximum
RPM'S
Available
Square opening
Mini
14-20

330

29

1350

20mm and .75"

19-25

880

90

1350

25mm and 1"

22-30

1760

130

1350

30mm and 1.25"

30-40

3520

250

1350

40mm and 1.5"

40-50

6200

800

1350

50mm and 2"

50-80

15400

1700

1100

80mm and 3.125"

80-120

26450

7300

900

120mm and 4.75"

120-180

48500

14800

700

180mm and 7"

170-200

70546

18500

500

200mm and 7.875"

170-230

141092

30300

500

230mm and 9"