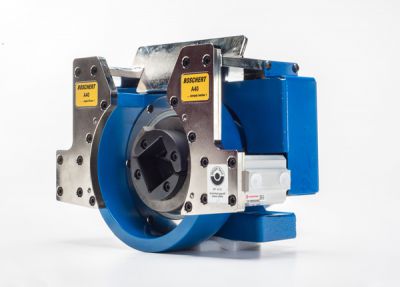 Parts and Accessories

Request Quote
Features
Guide/Guard™ aligns shaft journal with Safety Chuck pocket during roll changes.
Twin pneumatic cylinder design.
Redundant mechanical locking in case of electrical or pneumatic failure.
Mounting dimensions are identical with Mechanical series Safety Chucks. You can directly exchange one for the other! No need to change roll shaft lengths or roll handling procedures to use the new A Series.
Sensors can be added to read back to the machine logic whether the Safety Chuck is closed or open, or if the Safety Chuck is at 0 degrees, the position to stop for opening and closing.
Easy access to the locking mechanism allows for simple service and installation.
Convenient access to service pneumatic cylinders.
Axial and Lateral alignment shaft guide.
Replaceable inserts. A feature first introduced by Boschert in 1977.
Style VT-2 replaceable inserts for easy loading and unloading.
Safety Chucks close mechanically if pneumatic cylinders fail.
Off the shelf pneumatic cylinders with limit switch mounts.
At Boschert, we listen to our customers. You have been telling us what you need in the work place and we have the solution! You need faster turn around time for the operator, less people required to load your Safety Chucks, and increased safety in handling rolls. The A Series offers double redundance safety. It has two back ups to protect the operator. Your Safety Chucks need the capacity, flexibility, and ingenuity to safely carry your operations into the next century. Boschert has the solution!
We started this series with the heavy duty Safety Chucks. Before, integrated pneumatic opening and closing was for light to medium rolls. It did not exist for heavier rolls. Available at this time are the 30-40, 40-50 and the 50-80 size Safety Chucks. They are identified respectively as the A 40, A 50, and A 80.
Axial alignment shaft guide
Lateral alignment shaft guide
Fail safe design prevents roll shaft from falling out of Safety Chuck housing
Lower replaceable insert
Upper replaceable insert
Sliding ring, which acts as a cam follower, has mechanical advantage caused by levers which are activated by pneumatic cylinders
Force multiplication
Cylinder mounting
Redundant mechanical locking in case of electrical or pneumatic failure
Twin pneumatic cylinder system
| Technical data | A 40 | A 50 | A 80 |
| --- | --- | --- | --- |
| max. beamweight | 1600 kg | 2800 kg | 7000 kg |
| max. torque | 350 Nm | 1100 Nm | 2350 Nm |
| max. square bar size | 40 mm | 50 mm | 80 mm |
| concentricity | 0.1 mm | 0,1 mm | 0,2 mm |
| air pressure | 5 bar | 5 bar | 5 bar |
| max. drive shaft diameter | 40 mm | 55 mm | 80 mm |