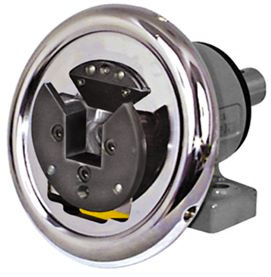 Parts and Accessories

Request Quote
Features:
Maximum Eccentricity 0.004"
Chrome Plated Steel Handwheel
Rubber Finger Guard
VT Parts Replaceable Insert
Hardened to your specification Available Off The Shelf in 50 Rockwell C
Tolerance: Specified Dimension -0" + 0.000984"
This Safety Chuck features the patented Replaceable Insert feature by Boschert. With the Replaceable Insert feature the customer can specify a square opening, a triangular shape opening, hex shape, or just about any shape the customer requires.
The advantage of this model Safety Chuck is that it is designed for higher speed applications. Because of the Boschert design Replaceable Insert, this Safety Chuck offers a closer concentricity than the standard mill cut square opening our competitors offer. Closer concentricity means less vibration during the run, and greater life because of less wear, for both the end of your roll shaft and the opening/pocket in the Safety Chuck.
Size

Maximum
Weight/Pounds
Maximum
Torque
Ft/Lbs.
Maximum
RPM'S
Maximum
Available
Square opening

22-30

1760

130

1350

30mm and 1.25"

30-40

3520

250

1350

40mm and 1.5"

40-50

6200

800

1350

50mm and 2"

50-80

15400

1700

1100

80mm and 3.125"

80-120

26450

7300

900

120mm and 4.75"
PLEASE NOTE: flange chucks on turret/carousel machines MUST have locks.