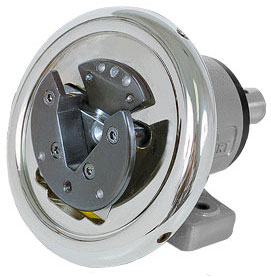 Parts and Accessories

Request Quote
Features:
Maximum Eccentricity 0.003"
Chrome Plated Steel Handwheel
Rubber Finger Guard
VT Parts Replaceable Insert
Hardened to your specification Available Off The Shelf in 50 Rockwell C
Tolerance: Specified Dimension -0" + 0.000984"
Tight tolerances between the roll shaft journal and the pocket of the Safety Chuck make for smooth operation. Tighter tolerances result in less movement in the pocket of the Safety Chuck. Reduction of movement results in greater life of those parts and less stress to the operation quality control sensors.
The triangular shape of the VT-6 provides for self-centering loading. The design is wider at the top allowing faster, easier loading and unloading. This creates faster turnaround and greater confidence for the operator in his equipment.
This triangular shape only allows movement insider the pocket two times per revolution instead of four times per revolution with a square shape. A roll shaft journal falls inside the pocket every revolution, that distance which is the tolerance. With less movement in the pocket, you get greater life for your roll shaft journal and greater life for the pocket of the Safety Chuck. The aggressive action between the journal and the pocket is not as severe because of the tight fit! Easier loading... smoother operation... get the full value of the Boschert VT-6 Safety Chuck.
There is only one size VT-6 for each Safety Chuck size. Below are the measurements for the wearing parts of the VT-6 and the design of the shaft end.
Type

Mini

19-25

22-30

30-40

40-50

50-80

80-120

af7

20

20

30

36

46

67

96

bf7

27

27

44

54

69

104

148

c

11.5

18.5

21.5

-0.2

24

-0.2

26

-0.2

34

-0.3

54

-0.5

d

f7

23.5

23.5

37

45

57.5

85.5

122

e

7.5

12

14

15

16

20

30

f

x °30

3

3

5

7

7

7

18

g

4

4

4

5

5

8.5

11

h

20

-0.1/-0.2

20

-0.1/-0.2

30-0.1/-0.2

36

-0.1/-0.2

46

-0.1/-0.2

67

-0.2/-0.4

96

-0.2/-0.4
All Sizes Available As STO/FLO (without shaft) or STW/FLW Models (with shaft)
Size

Maximum
Weight/Pounds
Maximum
Torque
Ft/Lbs.
Maximum
RPM'S

22-30

1760

130

1350

30-40

3520

250

1350

40-50

6200

800

1350

50-80

15400

1700

1100

80-120

26450

7300

900